Poultry Management Software
e-Poultry is complemented with a good poultry management software, it offers great potential for the poultry industries. Our poultry management software focus on egg production (broiler farm), chicken breeding (breeder), feed mill, meat production (market ready broiler) supervisor app, analysis and many more.
The poultry farm business is generally lucrative and if run properly, and complemented with a good poultry farming software, it offers great potential for its shareholders.  A poultry business can focus on egg production, chicken breeding, or meat production.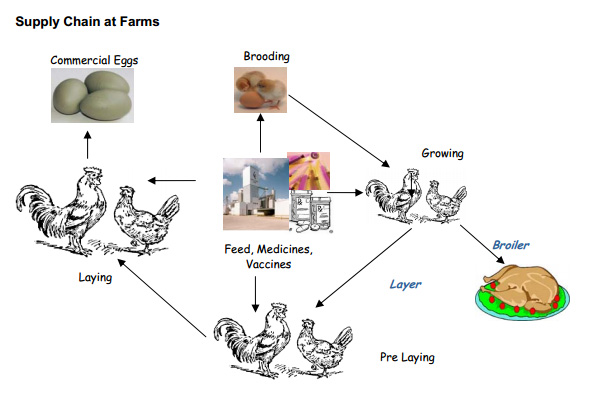 poultry management software enhances operational capabilities and boosts transparency in the reporting process. There are the aspects of ot management, stock management, material traceability and transportation of feed, stocks and medicines among other things — all of which will be daunting to be handled without some sort of poultry farming software.
A good software for poultry business enables members of the sales force to place purchases and transaction orders. 
Most importantly, a poultry management or livestock software must be user-friendly enough for the company's employees to be comfortable in using it. Employees who may be used to certain reporting formats and methods may initially be reluctant to embrace an ERP for poultry business because they think it would be complicated and/ or cumbersome.  Thus, another challenge is to educate the employees and inform them that using a poultry management software is not too difficult even for those who are not tech-savvy, and that the benefits to be derived from using it greatly outweigh the initial adjustments that have to be made.
The supply chain in a poultry business is extensive and complicated such that an ERP for the poultry business will greatly enhance efficiency and customer satisfaction, not to mention prevent costly delays and wastage.  Managers can use real time, accurate data and make decisions to grow the business, shift the focus when necessary all towards the goal of creating value for its shareholders.